Select recommendations from experts who use this product
Chris O'Brien
Expert in Camping for 4 Years
America Outdoors Association
MoonDog FTW!
Perfect
Shawn Casey
Expert in Tactical for 1 Year
U.S. Army - Military
Happy trail buddy
Good bed to keep your dog off the ground in the backcountry. The only reason I went with 9 instead of 10 is that there was a little more bulk than I was expecting. It takes up almost a whole side of his saddle bags. Admittedly I dont have the largest pack that I could for him either. The weight and quality are great.
john sullivan
Expert in Fitness & Training for 4 Years
National Strength and Conditioning Association
Doggo bed
Light enough to put in the pups pack, and it makes a world of difference in comfort for my old boy
tyler zink
Expert in Camping for 2 Years
Fire and Rescue
Best camping dog bed ever
It's lightweight and washable!
Jodi Brommer
Expert in Camping for 2 Years
Air Methods
Well Made, Dog Likes it
This is my 3rd Klymt product, and my dog can be picky about her beds, so I hoped it was worth the cost. She's a 94lb hound Dane mix and the large is perfect for her. It took me about 30 seconds to a minute to fully inflate it, and she laid on it right away when I showed it to her. Our last camping trip was in the Black Hills and the bed was nice to inflate and deflate as we moved around. It's a little on the heavy side for backpacking, but I might bring it anyway. Since it's an air pad, it would seem to me to be a cooler option than her big huge plush bed she lies on the rest of the time.
Jacob Dain
Expert in Tactical for 2 Years
Law Enforcement
Great dog bed
I have a large toy hauler but limited storage. I needed a dog bed that fit in my beagle's crate and in a small cupboard. This works perfectly and the cover washes well. Secondly I use it for tent camping. I liked that it would fit in the corner, however without a crate my dog quickly took over my son's short static V mat instead. I've also used it in our truck floor and it fits perfect as well.
Nicole Cacialli
Expert in Fitness & Training for 1 Year
Nike Employees
Great Dog Bed for Car Camping!
This is a durable, easy to inflate bed for car camping with dogs. I love that it comes with a cover, so that it doesn't tear when the dog steps on it. Shape is great. The best thing about this bed is the shape! Props to Klymit for this design. I was honestly concerned this wouldn't be large enough for my 120lb Cane Corso, but because of the shape of the bed, he is able to curl up in his normal sleeping position and still has a little extra room! Love this bed.
Deborah Froeb
Expert in Hike for 2 Years
The Nature Conservancy
Love it, dog sleeps better which means I sleep better
bought this after a backpacking trip where my dog was so cold that I had to keep putting my jackets over him and under him. every time he would move and wake me up, This looked like it would solve the problem and get him off the ground and help keep him warm through the night. It did just that, even though it was colder on the next trip we both slept great and stayed warm.
Charles Zanoff
Expert in Hike for 2 Years
U.S. Army - Military
Great Dog bed
Nice and light, keep the dog off the ground.
Chris Coucheron-Aamot
Expert in Hike for 2 Years
NOLS Alumni
Small/medium is the perfect size for a 20 lbs terrier. My dog loves this bed, and it's a good size to fit inside a 4p tent alongside two adults.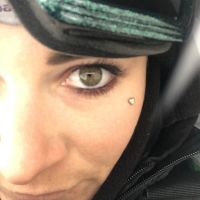 Kathleen Wheeler
Expert in Hike for 2 Years
Wolf Creek Ski Area - CO Retail Employees
Happy dog!
This product was perfect for my medium sized 30 lb basenji. I wouldn't recommend for dogs any larger. Easy to inflate and very durable. My pup went straight to it every night and stayed there throughout the nights sleep. Only drawback is that it fits kinda funky into the cover and is a little hard to get to the right shape. But this is no biggie and the dog doesn't mind at all. Great addition for the pup.
Nina Nieman
Expert in Hike for 1 Year
Wilderness First Responders
Great Product!
Just got back from a trip in the BWCA and this packed great! It also fits nicely in the belly of the canoe where my dog enjoyed a dry ride!