Experts' Guide to e-Bikes
The number of e-bikes is surging in the cycling world
As electric bikes, otherwise known as e-bikes, continue to impact the traditional landscape of cycling — both in urban areas and beyond — their effects have caused a seismic shift across the industry. More and more manufacturers are jumping aboard the e-bike bandwagon — and not planning on getting off anytime soon.
The e-bike and its growing list of iterations and capabilities (these machines are certainly not built solely for the work commute anymore) is benefiting riders and our environment in a host of ways:
E-bike popularity has made for more cars in the garage.
E-bikes can quickly become a carbon-neutral investment.
E-bikes are just plain fun to ride.
E-bikes allow you to ride farther and faster.
How's the ride on an e-bike vs. an acoustic bike?
ExpertVoice surveyed a number of experts like you — along with category experts including Alta Cycling's Larry Pizzi — to get their reaction to riding an e-bike.
"E-bikes have replaced commute by car trips and enabled me to ride distances and terrain that would not have been practical on an acoustic bike. Being outdoors and active makes all the difference for me."
— Larry Pizzi, CCO of the Alta Cycling Group, and a longtime advocate of e-bikes
"The fun factor is off the charts — being able to ride the same trail five times instead of once. [My] bikes weigh around 50 pounds; they are very expensive if you get decent components. With that said, they are worth every penny. I can't tell you how much fun they are."
— David MacKay, owner of three e-bikes and ExpertVoice member since 2014
"If you're considering an e-bike purchase and on the fence about whether you'll enjoy it, if you enjoy riding, this is a game changer. It makes bike riding and getting physical activity on a regular basis without having to head to the gym much easier. Would I buy another e-bike? Truthfully I don't see me buying a non-e-bike from this point forward, I enjoy it that much."
— Charlie Fair, ExpertVoice member since 2010, who has been riding an acoustic bike or e-bike every day since Sept. 11, 2016
Q&A on e-bike etiquette
The interactions between traditional cyclists and e-bike riders on the roads and trails in many states have not always been family friendly.
ExpertVoice interviewed Alta Cycling's Larry Pizzi about e-bike etiquette. Larry is also a board member of the non-profit People for Bikes, which is dedicated to making bicycling safer, easier to access and more fun.
ExpertVoice: As it relates to e-bike etiquette, and the interactions between traditional cyclists and e-bikers, what do you see as the biggest issues that need to be addressed moving forward by municipalities and government agencies to ensure e-bikers aren't adversely impacting trails and causing conflicts between traditional cyclists?
Larry Pizzi: On natural surface trails, it's all about education. Understanding where Class-1 eMTB's can be legally ridden, how to ride and proper trail etiquette. Since e-bikes are getting so many new riders onto trails, it is critical that they are provided appropriate orientation. IMBA and People For Bikes are working on a program called Project Trail Respect. As this rolls out later this year, I believe it will help to provide a platform to mitigate trail user conflicts.
EV: What do you see as the biggest issues to confront moving forward as e-bikes become a larger and larger part of the cycling community as a whole?
LP: Right now, we have about 30 states that have adopted model 3-Class legislation which will regulate e-bikes, similar to acoustic bikes. It is important that all states have consistent regulations and that they clearly define the three classes of e-bike types, so they can be properly regulated in various environments.
EV: What do you feel are the biggest etiquette issues that people new to e-bikes need to understand before they start riding?
LP: Riders need to understand and follow the rules and regulations. Again, providing clarity on where it is legal to ride and getting riders properly oriented prior to getting out on the bike.
Click here to explore electric bike laws by state.
Outfit yourself and your e-bike for adventure
Brede mentioned his Julbo REACTIV Cameleon sunglasses as "a must-have for e-bike assisted ski adventures."
"The REACTIV Cameleon lens works across a wide range of conditions. They work great on the dirt approach and also later on in the bright snow."
Here are some other top recommended products for e-bike adventures beyond the urban jungle.
Need an e-bike? Check out these top recommended picks
The Haibike Xduro AllMtn 6.0 is the brand's top recommended build on ExpertVoice. Check out this thorough review from Christopher Mitchell.
Christopher Mitchell
5 reviews (9.8 avg.)
14 helpful votes
Loving It - Super Versatile
I've been riding this bike almost every day for the last month since I bought it. I initially was looking for an eBike to use on bike paths near the beach and along the river. Then I got excited about using an eBike to start mountain biking again and riding off trail and got a great deal on this bike. I have had a chance to ride on some MTB trails and fire roads in the mountains and this bike handled great. The assist worked super smooth to help me power up hills and no issues with slipping. The suspension made it fun and pleasant to ride, even on rutted fire roads. The dropper seatpost was something I haven't had before and it is awesome. Makes it so much easier to change seat height as needed before steeper descents. I converted to tubeless and being able to have a low psi without worrying about flats makes me much more comfortable taking longer rides on fire roads and MTB trails. It also works great for riding along the beach and river trails in Southern California. I rode inland 25 miles along the river path and explored parks and neighborhoods along the way. On the way back, I was riding into a 15 mile an hour headwind the whole way - would have been miserable without the power assist. I find I am getting a great workout most of my rides, I keep my heart rate in my target zone for most of the ride but I get to cover a lot more ground and even on hotter days I don't overheat since getting more of a breeze. Already planning some trips to Mammoth Mountain, other parts of the sierras, and the desert to do some rides and keep exploring.TIP: I was between recommended sizes, went for smaller bike. When I first picked it up it felt a little too small and I didn't how low the handlebars felt - bike shop put in an adjustable Stem which moved handlebars up and forward a little bit and now it is super comfortable to ride. I can always lower them a little if I feel the need when doing more technical MTB trails.
And the iZip Sumo El is a top recommended pick. Check out this from Michael Lawrence.
Michael Lawrence
2 reviews (9.5 avg.)
4 helpful votes
Verified Product Owner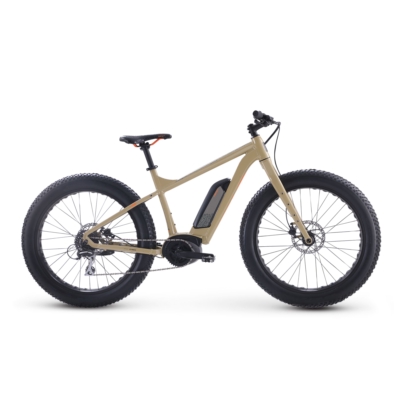 Fun on my iZip Sumo
I like the iZip Sumo because it has great components at a price I could afford. I've already aired down the tires and ridden snowmobile trails and it was great! The Bosch drive system was smooth and almost hard to notice; adding power felt more like shifting to a smaller front chain ring. Only you don't slow down! As the snow covered trails got steeper I could just add more power and maintain the same speed. Super fun and increases my riding range. Great purchase!
Are you an expert? Make it official.
Are you someone who people trust for advice on what to buy? Join ExpertVoice today and find out which brands want to empower your expertise with access to exclusive education and insider pricing on their products. Explore brands, try products and share recommendations with our community. See if you qualify.
Learn more about how to put our experts to work for your brand at expertvoice.com/business.