5 example campaigns created by brands in the Advocacy Platform
Get inspired by these innovative brand-created campaigns designed to educate and reward experts.
Many brands have embraced the publishing tools in the Advocacy Platform Campaign Manager to grow their ExpertVoice program. With seven distinct campaign types* to pick from, connecting with ExpertVoice members is easier than ever.

Campaigns focused on education and seeding, in particular, stand out as the secret sauce that keeps experts in the loop about your latest products and encourages them to put those products to the test. 
Did you know? Brands have already crafted and published over 300 campaigns since the release of Advocacy Platform's Campaign Manager.
Not sure what type of campaign to create in the Campaign Manager? Explore these five brand examples from different industries, all chasing similar goals. These success stories are bound to fire up your creativity and inspire impactful campaigns that will move the needle for you, your business and the experts that matter most. 
Campaign Type: Seeding
Industry: Run
Brooks utilized the Advocacy Platform to launch a Seeding Campaign aimed at amplifying their Ghost 14 Running Shoe sales. This strategic move targeted retail sales associates and industry professionals on ExpertVoice. With both men's and women's versions available in various sizes and colors, the product had broad appeal at 70% off MSRP.  Since its launch, Brooks has seen an impressive surge in product trials. Over 16,000 experts jumped on the opportunity, snagging their own Ghost 14s at an insider-only rate.
It takes me 5-10 minutes to actually build out and publish campaigns via the Campaign Manager. The ExpertVoice team builds the store for you and sets up the promotion, so it isn't a huge lift on my end." 

Jacquelyn Stone
Digital Guru Supervisor at Brooks
Try these tips inspired by this brand:
Highlight a versatile product with ample size, color, and gender options.

Introduce a time-sensitive discount to drive sales.

Monitor inventory levels regularly to provide a positive shopping experience.
Campaign Type: Education and Seeding
Industry: Hunting
First Lite, an Idaho-based hunting apparel company, created an on-brand Education and Seeding Campaign in the Advocacy Platform. Their aim? Amplify awareness of their 2023 product line while incentivizing experts to complete their lessons.

Using Video Lessons, First Lite strategically showcased their company's individual product videos in a bite-sized learning format. Each video, hosted by their VP of Product Design, averaged just 90 seconds and was accompanied by an Edu-Game – a concise quiz enhancing experts' understanding of key product features and benefits.
The Campaign Manager has been the ExpertVoice tool we've been waiting for. Creating our custom campaigns has allowed complete control of our brand messaging and close alignment with our seasonal product releases and stories.

Nate Lijewski
Senior Strategic Accounts Manager at First Lite
Try these tips inspired by this brand:
Utilize videos your company already has on hand. 

Keep video content short and sweet for expert learning. 

Strengthen key takeaways with a quick quiz at the end of the lesson.
Campaign Type: Education and Seeding
Industry: Hunting
HEVI-Shot®, a standout name in shotgun ammunition and a Vista Outdoor brand, created an Education and Seeding Campaign. Their objective? Bolster product awareness and reward certified experts. HEVI-Shot's campaign took off with two succinct Video Lessons, each lasting around 60 seconds. Featuring HEVI-Shot Ambassador and Social Media Influencer Beau Brooks, these dynamic lessons showcased why HEVI-Shot's products are a must-have for turkey hunting season.
Beyond the engaging content, experts who aced HEVI-Shot's quizzes were smoothly directed to the brand's site. Their reward? A checkout discount to sweeten the deal.
The Campaign Manager is a game changer because it allows me to be nimble and react to changes in the market and seasonality of products, with the ability to control my own content. I also can amp up the amount of content and mirror campaigns and product launches that our marketing and product teams follow. In the short time we have used this, we have seen a positive uptick in activity and engagements. When I have questions or need support, my ExpertVoice team is always there to help.

Bart Biedinger
Trade Marketing at Vista Outdoor
Try these tips inspired by this brand:
Put your brand ambassadors in the spotlight for educational content. 

Leverage existing company videos to upload to campaigns. 

Time your campaign to coincide with the relevant selling season.
Campaign Types: Education and Seeding, Education
Industry: Tactical
Vertx, a Fechheimer brand and creator of Flying Cross military and law enforcement uniforms, is a go-to choice for top operators and prepared professionals. The Director of Brand Development crafted Education and Seeding Campaigns that amplified their brand history and boosted awareness of key product lines among target experts.
Vertx employed a mix of Structured and Video Lessons, which detailed product specifics through high-level talking points, short video content and warm lifestyle imagery. The engaging videos starred Vertx's Director of Training and Field Marketing, the primary spokesperson, and a successful lesson completion earned experts exclusive discounts on Vertx products through ExpertVoice.
Vertx developed additional optional lessons within an Education Campaign for experts eager to learn more and explore at their own pace. 
We love the Campaign Manager as it allows us to stay up to date with both our retail partners and our end-users. Our products are built to look very standard, but they are loaded with hidden technology and features, so keeping our key stakeholders educated on our products is a big key to our success. We've found by leveraging different campaigns for different audiences in Campaign Manager at different times of the year, we can be relevant year round and have messaging at important parts of the year."  

Aaron Silverstain
Director of Brand Development at Vertx and Flying Cross
Tips from this brand's strategy: 
Combine Structured and Video Lessons in Education Campaigns.

Get creative with images uploaded to Structured Lessons; add numbers to specific features on the image and match them to more detail in the description. 

Create a separate Education Campaign for additional on-demand learning content. 
Campaign Types: Education and Seeding, Education
Industry: Coffee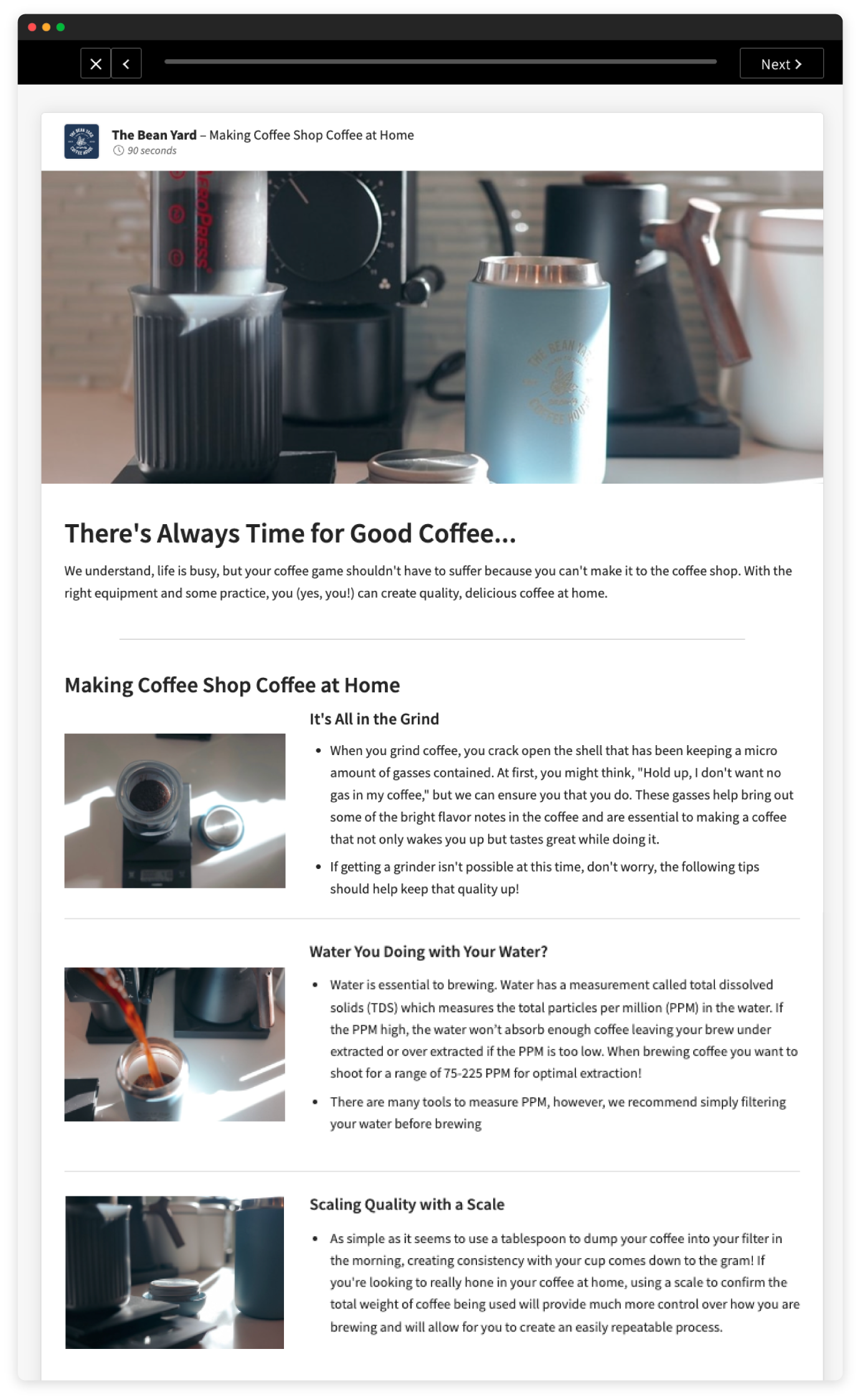 Hailing from Sandy, Utah, The Bean Yard, a renowned coffee house and roaster, brewed up an Education and Seeding Campaign in the Advocacy Platform. Their goal: show experts how to make the perfect cup of coffee while rewarding participants. 
Opting for concise and digestible learning, The Bean Yard used a Structured Lesson template in the Campaign Manager to tell their story. They integrated on-brand imagery and brewing guidance that they had on hand. At the "How To" lesson's close, successful quiz-takers were granted access to The Bean Yard's products at an insider-only ExpertVoice deal.
Going the extra mile, The Bean Yard produced a 3-minute video, hosted in a Video Lesson, to welcome 20+ lucky caffeine-loving experts to their private community on ExpertVoice. 
The Campaign Manager has been invaluable in formatting our educational resources and products in a way that better fits our target audience. The ability to update things on the fly and have flexibility with our shifting offerings has been amazing." 

Eugene Kim
General Manager and Founder at The Bean Yard
Tips inspired by this brand's approach: 
Structure lesson content in a practical "how-to" style with step-by-step guidance.

If you'd like, film a casual custom video just for experts and upload it into a Video Lesson; perfection isn't necessary, and lessons don't need to be overly produced. 

Tailor campaigns for different audiences, including your

communities

.
Education and Seeding Campaigns empower experts with product knowledge and reward those who ace your brand lessons. Feeling unsure about where to begin? Team up with ExpertVoice Studios for campaigns tailored to you, or unleash your creativity with the short-form templated lessons in the Advocacy Platform's Campaign Manager
Check out additional best practices and this support article to start mastering the art of advocacy marketing and connecting with your core audience on ExpertVoice through campaigns.
Inspired to follow in these brands' footsteps?
The Campaign Manager is here Advocacy Marketing By The Advocacy Platform got an upgrade. Note: Some brands have early access to the upgraded Advocacy Platform. All other brands will see an upgraded experience in the coming weeks, and this support article has detailed instructions on using the features. The Campaign Manager is now available in the […]
Read More